CIRRUS HD- Optical Coherence Tomography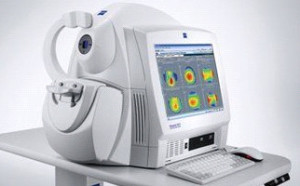 Our experienced eye doctors offer comprehensive vision examinations at our Jacksonville optometry office and specialize in the diagnosis and treatment of a wide array of eye diseases, conditions, and problems. We use advanced diagnostic technology and vision correction products and are committed to improving the quality of life of persons in the Jacksonville community through enhanced vision. Give yourself the gift of clear vision – schedule an appointment with us today.
Humphrey Visual Field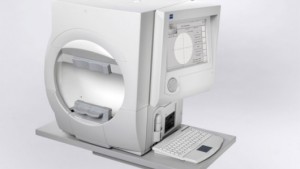 The Humphrey Visual Field is an automated test that is used measure the entire area of peripheral vision the eye can see while focused on a central point. This test is used on a regular basis on our glaucoma patients, in order to determine how quickly the disease is progressing. The Humphrey Visual Field test can also be used to detect other conditions of the optic nerve and certain neurological diseases.
B-Scan Ocular Ultrasound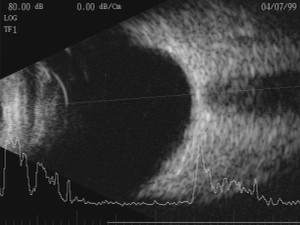 An ultrasound of the eye that allows detection of tumors, cataracts and retinal detachments.
Atlas Topographer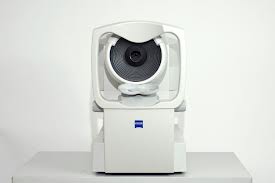 The Atlas Topograher gives a map of the front of the eye. Allows us to monitor corneal diseases such as Keratoconus and Pellucid Degeneration. Also functions to assist us in fitting patients in the best contact lens that is specifically designed for their eyes.
Specular Microscope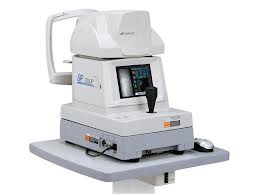 Specular Microscopy is a rapid non-invasive in office test that is used to evaluate the cells on the back layer of the cornea, endothelial cells. These cells pump fluid out of the cornea to keep it clear. This test allows us to diagnose and treat endothelial dystrophys and Fuch's corneal disease properly.
Topcon and Canon Retinal cameras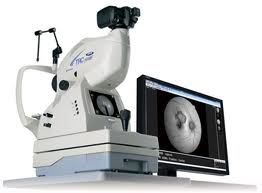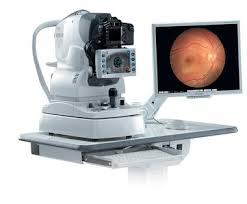 Our two in-office retinal cameras allows us to take photos of certain areas of the optic nerve and retina. Retinal cameras allow us to document and monitor retinal diseases from year to year.
Santinelli Lex 1000 Edger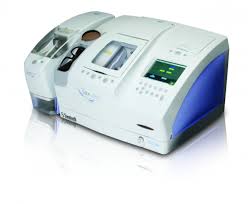 The Santinelli Edger allows for automated lens edging and finishing in office. Results in a perfect fitting lens for any frame selected.
Slit Lamp Camera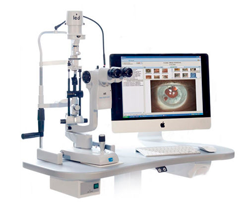 A slit lamp camera is used to monitor and diagnose a variety of ocular surfaces diseases through biomicroscopy, which allows magnification of the anterior surface of the eye.
Chemistrie Sunless and Readers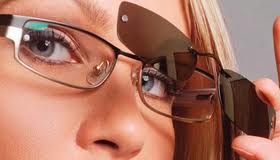 Chemistrie lenses are transparent to frame design and transforms patient's Rx frames to become high- end Rx sunglasses or reading glasses.