CIRRUS HD- Optical Coherence Tomography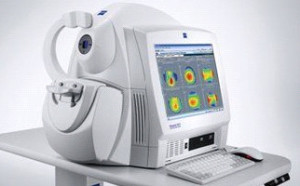 Our skilled eye doctors provide comprehensive vision exams and specialize in diagnosing and treating a range of eye diseases and conditions. Using state-of-the-art diagnostic technology and advanced vision correction products, we're dedicated to enhancing the quality of life for individuals in the Houston, Pearland, and surrounding communities by improving their vision. Experience the gift of clear vision by scheduling an appointment with us today.
Humphrey Visual Field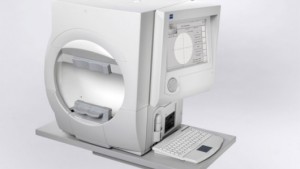 We use state-of-the-art equipment at Bay Area Eye Center Pearland like the Humphrey Visual Field to assess your peripheral vision while you focus on a central point. This test is particularly important for our glaucoma patients, as it allows us to track the progression of the disease over time. The Humphrey Visual Field test is also useful in detecting other conditions affecting the optic nerve and certain neurological diseases. Our commitment to using cutting-edge technology like this is just one way we strive to improve our patients' eyesight and overall eye health.
B-Scan Ocular Ultrasound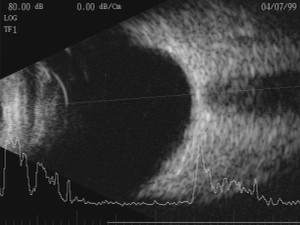 Our experienced eye care professionals at Bay Area Eye Center use B-Scan Ocular Ultrasound to detect tumors, cataracts, and retinal detachments in patients of all ages. This non-invasive and painless ultrasound technology provides accurate and timely diagnoses, leading to better treatment outcomes and improved vision health. Trust us to use the latest technology and techniques to care for your eyes and preserve your vision.
Atlas Topographer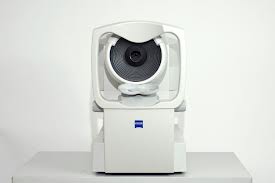 Our team uses the Atlas Topographer to create a map of the front of the eye, monitor corneal diseases such as Keratoconus and Pellucid Degeneration, and fit patients with contact lenses that are specifically designed for their eyes. This tool is particularly useful when dealing with our patients who need contact lenses in Houston, Pearland, and surrounding areas, allowing us to provide personalized and effective eye care solutions.
Specular Microscope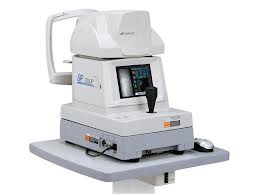 Our non-invasive in-office equipment, Specular Microscopy, evaluates the cells on the back layer of the cornea, specifically the endothelial cells responsible for pumping fluid out of the cornea to maintain clarity. With this test, we can accurately diagnose and treat endothelial dystrophies and Fuch's corneal disease, providing the appropriate care to maintain the health of your eyes.
Topcon and Canon Retinal cameras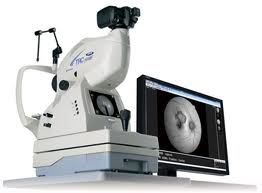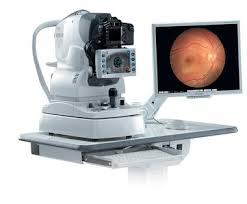 By using our two in-office retinal cameras, we are able to take high-quality photos of specific areas of the optic nerve and retina. These retinal cameras not only help us to document and monitor retinal diseases, but also enable us to track changes in your eye health from year to year. Trust Bay Area Eye Center as your experienced eye care professionals in Houston to use the latest technology and techniques to help preserve and improve your vision.
Santinelli Lex 1000 Edger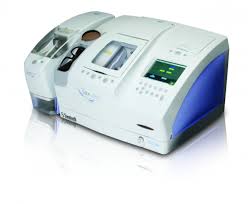 Our automated lens edging and finishing technology, the Santinelli Edger, provides precise and perfect fitting lenses for any frame selected. This advanced technology allows us to provide high-quality lens edging and finishing in-office, ensuring our patients receive the best vision care available.
Slit Lamp Camera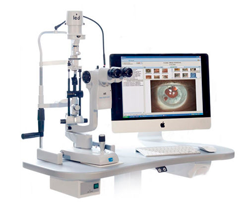 Through the use of biomicroscopy, a slit lamp camera is employed to diagnose and monitor a variety of ocular surface diseases. This technology allows for the magnification of the anterior surface of the eye, providing a detailed view that enables accurate diagnosis and treatment planning.
Chemistrie Sunless and Readers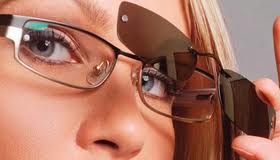 With Chemistrie lenses, your primary eyeglass frames can be transformed into high-end Rx sunglasses or reading glasses. These transparent lenses easily click onto your existing pair of lenses using magnetic technology, allowing you to enjoy the convenience and style of multiple eyewear options without the need for extra frames. Experience the benefits of this innovative technology and elevate your eyewear game with Chemistrie lenses.